ENISHI NEWS
Up Coming holiday business hour
Update date : 19/12/2019
Joy to the world!
We are both pleased and sorry to inform our existing clients and many more possible future clients that our both Bondi road shop and Beach shop will be opening for limited time on following days:
24/12/2019 10 - 6PM
31/12/2019 10 - 6PM

And will be closed on:
25/12/2019
01/01/2020

Please note that early reservation can always find you the most appropriate therapist, have a look on our service and think about what you need.
Or simply ring us up and discuss with our therapists if you like.

We wish you a merry Xmas and Happy New year.
And a silent moment for the two fallen firefighters.

BONDI-BEACH SHOP SPECIAL
Update date : 09/10/2019
BONDI BEACH SHOP SUMMER SPECIAL
3/177 Glenayr Ave, Bondi Beach.
02 9300 9778

★40mins Oil massage, $50
7 days available. 10am - 5pm
*Cash only.

*Bookings are highly recommended.

BONDI-ROAD SHOP SPECIAL
Update date : 09/10/2019
BONDI ROAD SHOP SPECIAL OFFER
226 Bondi Rd
02 9387 7827

★Pair Discount
$150 for two, 60mins Oil massage
***7 days available, 10am - 5pm***
***Bookings Recommended, conditions may applied.***

★$50 40mins Oil massage
*CASH ONLY*
***7 days available, 10am - 5pm***

WEEK DAY POINT CARD
Update date : 09/10/2019
★Point card, collect 5 stamps to get $30 off (1 stamp 60min)

*available at Bondi road/ Beach shops.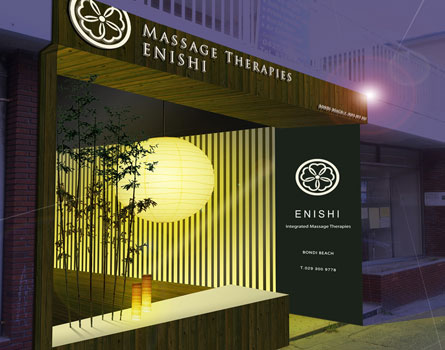 ABOUT ENISHI
There is a Japanese word 縁 (EN), which means 'relationship'.
Our company is named after "ENISHI", an old-fashioned pronunciation of this word. With this meaning in mind, we wish to build great relationships with you starting from the encounters at our place. The ENISHI concept is shown in our logo, made of 5 overlapping hearts, symbolizes our thoughts and determination to fulfill our wish to connect with you.
ENISHI's interiors are composed by Japanese architecture team "Stile Space Industrial arts".
日本語に人と人との繋がりを表す縁(えん)という言葉があります。
私たちの会社はこの言葉の古い読み方にちなんで "えにし" と名づけられました。 この言葉の意味を胸に、私たちはこの場所での出会いから始まる素晴らしい関係をお客様と築いていきたいと願っています。 この"お客様との繋がり"というENISHIのコンセプトは重なり合った5つのハートのロゴマークに象徴されています。
ENISHIの空間構成は日本の建築設計事務所 stile space industrial arts によって設計されています。