ENISHI NEWS
October update
Update date : 30/09/2021
★ We are also working on a few minor adjustment on our booking system, our contact number is now:

TEL. 040 2929 892
TEL. 040 2929 892
If we can't answer the phone send SMS please...m(_ _)m

★ In order to comply with government requirement, we would like to invite everyone to continue to wear face mask or have your medical exemption with you upon your appointment.

★ Lastly, and cannot emphasise enough, we are so looking forward to see you and help you with your muscular problem as we always do.

Sincerely
Enishi

★IMPORTANT NOTICE★
Update date : 31/03/2021
Dear friends and future guests,
thank you for supporting our small business since lockdown eased, we are genuinely very grateful.

Firstly, as our landline service quality does not meets its cost and often out of service, our manager has decided to change provider and say sayonara to TXXXtra, if you find any trouble to get to us, please try our new contact number at

★ENISHI Bondi Beach★:
3/177 Glenayr Ave, Bondi Beach.

TEL 040 2929 892

*The new contact number will also be updated on the google map by Sunday the 4th.

Secondly as you may recall, we have recently slightly increased our price in reflect of our cost and services, however after 3 months of test run, it is apparent that it doesn't covers our cost enough in a long term sustainable way, in which, we will be implanting new price list from 11th of April, for further information contact us about the price change.

Thank you for your understanding and please keep supporting our small business.
Sincerely
Enishi web admin

Latest update!
Update date : 02/02/2021
★ENISHI Bondi Beach★
177-197 Glenayr Ave, Bondi Beach.
TEL 040 2929 892
TEL 040 2929 892

Great News!!!
Update date : 30/05/2020
Dear friends, family and guests.
With the coming easing of restrictions, we Enishi staffers would like to share our wonderful news with you.

From 1st June, we again open our door for everyone!
We're currently only allowed a limited number within the premises, so we invite our lovely guests to call first to confirm a time and our therapists' availability.

We continue to optimise health & safety for both staff and guests, so please note we might not be able to accept casual walk-ins as a safety precaution.

Please contact our branches for more information.

★ENISHI★
Bondi Beach: 3/177 Glenayr Ave, Bondi Beach.
TEL 040 2929 892

Coronavirus pandemic
Update date : 29/03/2020
Dear friends and guest

Due to such pandemic outbreak, we are sorry to inform everyone we are temporarily shutting down our branches following the social distance order by the government.

Enishi staffers would like to invite each one of our guests and friends to stay alert and follow the guidance of government of the followings:
1. Keep your distance with each other,
2. Stay inside to minimise the risk to contract nor spread
3. Mask up when outside or when you feel ill
4. Wash hands at all time. (Pes kun and Maria san are looking at you boys!)

Finally we would like to thank everyone who had tried to book-in during this difficult time, we are deeply sorry that we were not able to assist you, however Enishi staffers are genuinely hoping each one of our guest well and looking forward to see you soon.

Up Coming holiday business hour
Update date : 19/12/2019
Joy to the world!
We are both pleased and sorry to inform our existing clients and many more possible future clients that our both Bondi road shop and Beach shop will be opening for limited time on following days:
24/12/2019 10 - 6PM
31/12/2019 10 - 6PM

And will be closed on:
25/12/2019
01/01/2020

Please note that early reservation can always find you the most appropriate therapist, have a look on our service and think about what you need.
Or simply ring us up and discuss with our therapists if you like.

We wish you a merry Xmas and Happy New year.
And a silent moment for the two fallen firefighters.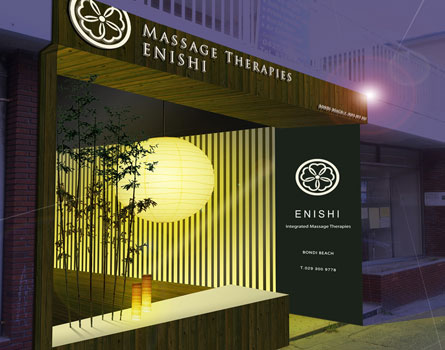 ABOUT ENISHI
There is a Japanese word 縁 (EN), which means 'relationship'.
Our company is named after "ENISHI", an old-fashioned pronunciation of this word. With this meaning in mind, we wish to build great relationships with you starting from the encounters at our place. The ENISHI concept is shown in our logo, made of 5 overlapping hearts, symbolizes our thoughts and determination to fulfill our wish to connect with you.
ENISHI's interiors are composed by Japanese architecture team "Stile Space Industrial arts".
日本語に人と人との繋がりを表す縁(えん)という言葉があります。
私たちの会社はこの言葉の古い読み方にちなんで "えにし" と名づけられました。 この言葉の意味を胸に、私たちはこの場所での出会いから始まる素晴らしい関係をお客様と築いていきたいと願っています。 この"お客様との繋がり"というENISHIのコンセプトは重なり合った5つのハートのロゴマークに象徴されています。
ENISHIの空間構成は日本の建築設計事務所 stile space industrial arts によって設計されています。